1770, Sailor's Creek, Virginia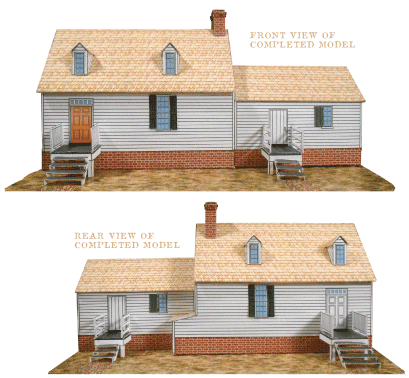 A pioneer landowner's home, one of the first built on what was then the frontier. Even so it demonstrates the effort colonial builders put into making as stylish a building as they could with the resources at hand.
Caught in the midst of fierce fighting during one of the last battles of the Civil War, the Hillsman house was used as a hospital. It is now the centerpiece of Sailor's Creek Battlefield Historical State Park.
Kit includes house model and base. Building measures approximately 8 inches long by 5 inches deep by 4 inches high. Four sheets plus illustrated instructions, $6.95 plus shipping. Available directly from the Park Visitor Center, at 804-371-2595 or 6541 Saylers Creek Road, Rice, VA 23966.
Skill rating: Moderate, for ages 8 and up. Adult supervision may be required.